Rings Blue Guns - Smith & Wesson M&P 40 Compact Firearm Simulator
Brand: Rings
Product Code:

BT-FSSWMP40C

Availability:

1
Rings Blue Guns - Smith & Wesson M&P 40 Compact Firearm Simulator Description:
Firearm simulator, also known as "BLUE GUN", urethane replica firearm for Police and military training. With this Smith & Wesson M&P 40 Compact replica the trainees would be able to train with and handle a handgun that is virtually identical to their standard issue pistol.
Bestsellers
Saunders - 9" x 12.5" Serrated Clip Aluminum Clipboards
Brand: Saunders
Model: SA-11517
$15.49CAD
Saunders clipboards are lightweight, sturdy and built to last with their weather resistant finish and heavy duty aluminum construction. If quality is what you are looking for then Saunders clipboards are right for you.
Saunders - 9" x 12.5" Serrated Clip Aluminum Clipboards Features:
Saunders clipboards have rounded corners & smooth edges
Stain and weather resistant lacquer finish
Ideal for use in controlled environments
Saunders clipboards are made in the USA
SNAFU - 3 Day Patrol Bag - Black - Reg Price $67.99
SNAFU Gear is our new brand. We are working to create a Canadian Product that will compete with some of the most popular brands in the United Stated. But with a Canadian Price. We dare you to compare our product with a similar and I firmly believe you will save a minimum 20% and be totally impressed with the quality.
SNAFU 3 Day Patrol Bag
Compact in design, water resistant and sturdy made from tough 600D material. The SNAFU 3 Day Patrol Bag was built to manage your essential clothing and equipment while on the move. A versatile Two Main 600D polyester Waterproof bag compartment with frameless backpack.
It has a reinforced grab strap with two padded shoulder straps.
Specifications:
Made from tough 600D Nylon
Padded Shoulder Strap
Padded Divider for Lap Top Carriage
Top Opening
Cell Phone Pocket
Molle Compatible
Padded Internal Diver
Waterproof Zipper
Canadian Flag Embroidered on front of bag
Tapco - SKS6632BK - SKS Gas Tube - Standard
Brand: Tapco
Model: TAP-16687
$84.99CAD
Tapco SKS Gas Tube - Standard
A properly designed gas system is essential to the functionality of your SKS rifle. This improved gas tube is precision machined from steel, making it a crucial upgrade to your aging weapon. The handguard on the INTRAFUSE® SKS Gas Tube is the same one found on the INTRAFUSE® SKS Stock System and provides a Picatinny rail on top of your SKS, making a solid mounting platform for optics.
Tapco - MAG6605BK - 5rd Detachable SKS Magazine - Black
Brand: Tapco
Model: TAP-16666
$37.99CAD
We've designed our SKS Detachable Magazines with serious shooters in mind. The mag body, made of high strength composite, has horizontal grooves cut into it for an enhanced gripping surface. We've used the highest quality interior components and incorporated a metal floorplate so you can expect maximum strength from this magazine. That, plus the fact that this mag is made in the U.S.A. so it counts for three compliance parts, you could say we've really thought of everything. Counts as 3 U.S. 922r Compliant Parts.
*Can be used in factory wooden stocks by filing the inside of the magazine well on the wooden stock, in order to accommodate the wider polymer magazine.
TAPCO - Extended Magazine Release SKS Plastic Black
Brand: Tapco
Model: TAP-16665
$9.50CAD
Product Information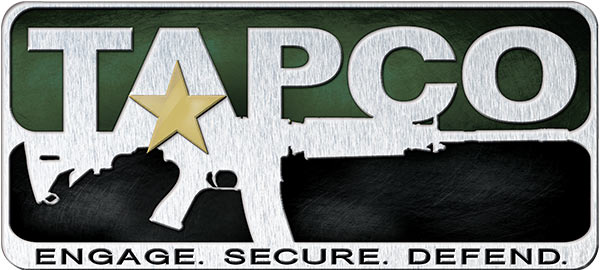 This extended mag release works with original fixed or detachable rings and fits Chinese, Russian and Romanian SKS rifle magazines. It will not fit the AK converted SKS rifles, Yugo or Slovinian versions. Comes with a lifetime factory warranty. Made in the USA.
Technical Information

Notes:
Works with original fixed or detachable magazines

Fits Chinese, Russian or Romanian SKS rifle mags

Extended mag catch will not fit the AK converted SKS rifles or Yugo

Manufacturer's lifetime warranty
Mec-Gar - PARA-USA P16 40 S&W - Nickel
Brand: MEC-GAR
Model: MGP164010N
$43.00CAD
Carbon Steel Tube, heat-treated for strength
Higher tensile music wire spring
Polymer follower
Removable steel butt-plate
Tapco - STK90161 T6 Rubber Buttpad - Black
Brand: Tapco
Model: TAP-16607
$21.99CAD
Tapco T6/M4 Rubber Buttpad
Easily installed on any T6 or M4 style collapsible stock, this rubber buttpad reduces the weapon's felt recoil while positioning the stock to the shoulder for better controllability. Added texturing ensures a proper stock weld to the shoulder. Marked "TAPCO USA".